To start using the Open API 2.0 you should first create your Open API application. The instructions below describe how to add an application.
Adding an Application
To get your Partner Credentials and start using the Open API 2.0, start with creating a new application on connect.spotware.com. To create a new App:
Open the URL https://connect.spotware.com

Log in or create a new cTrader ID. Learn more about cTrader ID here. Note that you can log in with your Google or Facebook accounts as well.

Select Applications to the top of the page.

Click +Add a New App.

Fill in the Add Application form and click Save.

Now your application has been added and you can locate it in the Applications section. Here you can view its credentials, edit it or start with the Playground.

In order to start using your applications, it needs to be activated by Spotware. When your app is activated you will see a green Active lettering in front of it.
Note that an application review usually takes about 24 hours during working days. If your application has not been reviewed within 24 hours, feel free to contact us at connect@spotware.com.
Client ID and Client Secret
After your application has been activated, click View in the Credentials column next to it. The application credentials - Client ID and Client Secret - will pop up. You will need these credentials later on when using the application.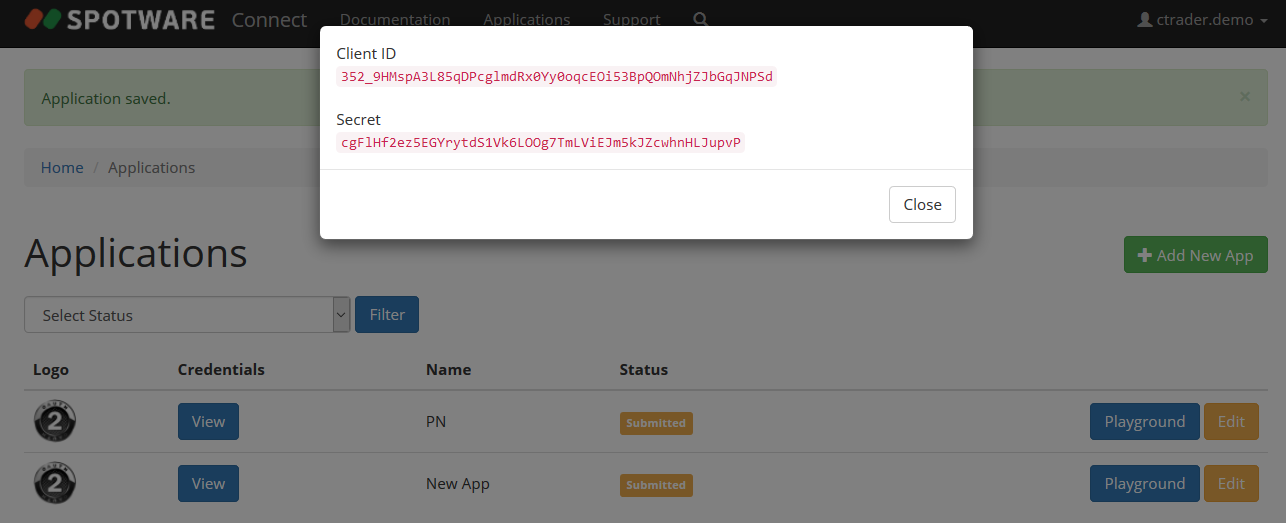 The Name, Description, and Logo will be displayed to your users at the moment when they will be asked for permissions for their trading accounts by your service.